Congrats New American Mountain Guide Mike Arnold
Posted on December 16, 2014 by AMGA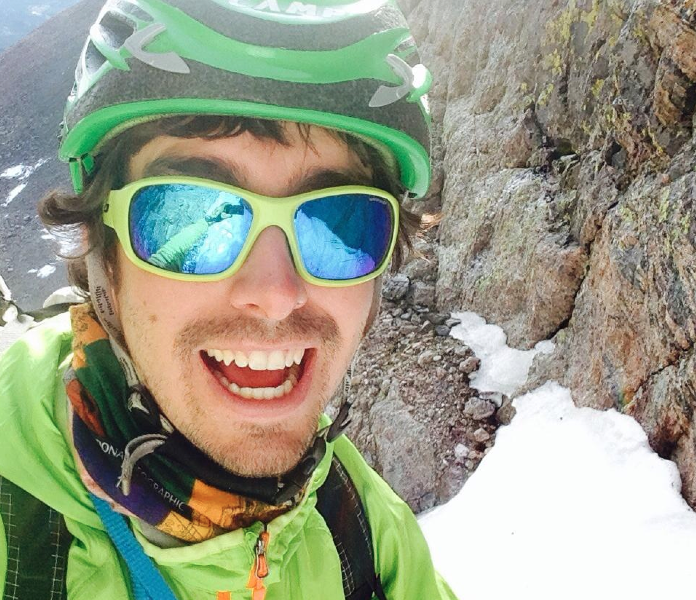 Congratulations American Mountain Guide Mike Arnold! Arnold first started the AMGA process February 2010. He took his first Ski Guide Course at Snoqualmie Pass, Wash. Nearly four years later on September 25, 2014, after just after turning 27, he finished The AMGA Programs to receive his American Mountain Guide/IFMGA certification. "It was one of the best days of my life," Arnold says, and it was the "true" start of his Mountain Guide career. We chatted with Arnold recently about his experience getting fully certified.
AMGA: What was the process like for you?
Mike Arnold: The process was unlike any other challenge I have faced in my life thus far. As I finished the first level courses, I continued to understand that this is what I wanted to do until the day I pass. Not only do I love the community I am surrounded by, but I also appreciate the daily self debrief of growth and improvement; it shaped the guide and person I am today.
The exam process brings on its own ups and downs. The development of the term "marginal" in everyday use got me prepared for the nine scoring categories. (Risk Management, Client Care, Technical systems, Movement, Terrain Assessment, Mountain Sense, Professionalism, Instruction Technique) The exams are stressful, no matter how prepared you feel. You are constantly being examined not only by examiners, but also by your peers. The process was a commitment, and I made several sacrifices in order to achieve IFMGA status. I spent countless days spent in a snow pit while everyone skied laps on the mountain. I spent days tweaking my short roping skills instead of working on my projects. But no matter what I missed, it all comes down to one goal… completing the AMGA programs! When I look back, everyday was a powder day for me. Thanks to everyone for assisting in this process!
AMGA: How do you feel now? And what are your goals?
MA: I am feeling a whole new type of anticipation and fear. This is where it all begins for a Mountain Guide. I'm dealing more with insurance, permits, and behind the scene duties to build myself as a Mountain Guide. Luckily, I've been fortunate to have numerous mentors and friends throughout the years, and so I feel confident, yet cautious about what lies ahead. I plan on getting to Europe and elsewhere as much as possibly the next few years. My main focus will be pushing my personal level of climbing and skiing. I'm very excited for the future.
AMGA: What is your advice to aspiring American Mountain Guides?
MA: Take your time through the process. Getting experience is the key to succeeding with the AMGA/IFMGA process. Travel to Alaska, Europe, Cascades, South America. Train hard with mentors and other participants in the AMGA. Guide within your terrain guidelines to get experience with actual clients. When the exams come, be ready to leave home and commit to the process, focus on the task at hand, as well as have fun and LEARN. As well, go clip bolts, ski low angle powder, and have fun with friends. The balance of life is key to longevity. We all want to be guiding for years to come. Before my final exam, I received an email from American Mountain Guide/IFMGA Guide Angela Hawse. In her final Remarks, she said, "have more fun than anyone." Remember that!