Dylan Taylor reviews the adidas Terrex Ndosphere hoodie jacket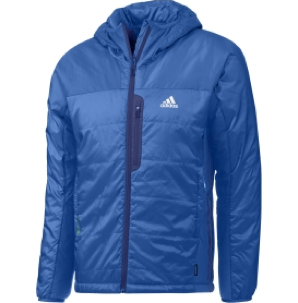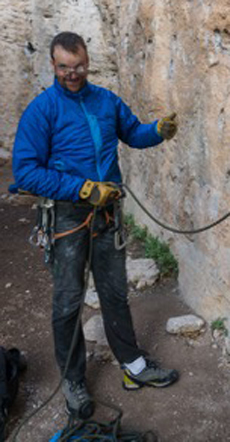 American Mountain Guide/IFMGA Guide Dylan Taylor tested the adidas Terrex Ndosphere hoodie jacket over 20 days while guiding in Utah, California, and Chamonix, France and during a Rock Guide Course fall 2014. According to Taylor, the Terrex is lightweight, flexible, and a good extra layer for pretty much any season. Check out our Q&A with Taylor for more details.
AMGA: What makes this piece ideal for skiing/climbing/ice climbing guiding?
Dylan Taylor: The Terrex insulated jacket is a general use, insulated jacket. I used it for rock climbing activities, but not for skiing or ice climbing (not the right season yet). As a belay jacket/coffee-in-camp jacket for rock climbing, it worked just fine. There's always room in my alpine or ski pack for a good insulated piece of this weight, so I'll probably bring the Ndosphere with me as winter develops. The lack of a hood makes it slightly less than ideal, though. (Editor's Note: Another version of this jacket does come with a hood).
AMGA: In what ways was it durable?
DT: These jackets probably aren't engineered to maximize durability, because they seem engineered to be lightweight and packable. Still, the fabric didn't seem too fragile, and it didn't get too caught up on snaggy cat-claw bushes and chunks of J-tree quartz monzonite. The stretch panel fabric seems more durable than the non-stretch fabric. But this was an observation made over a relatively short amount of time.
AMGA: In what ways was it functional?
DT: The Ndosphere was lightweight, packable, and warm. I can stuff it up into the right hand warmer pocket, and there's a loop on the outside that is robust enough to function as a clip-in loop, so I could clip this thing to my harness on shady, windy rock climbs, and whip it out at the belay stance. The stretch panels seemed almost gimmicky at first. But with a harness on, restricting the amount of vertical creep the jacket could get away with, I noticed that the stretch panel on the back actually does make a difference. Making longer reaches is slightly more comfortable, and the jacket doesn't rise up as much. Again, the only mark against this particular jacket's functionality is the lack of a hood.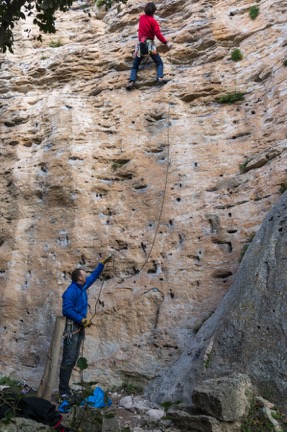 AMGA: How is the fit?
DT: Most adidas garments fit me a little tighter than garments from "American"-based companies. I'm a size Large, and the "American Large" Ndosphere fits me fairly well, if a little tight. I think an XL would likely be a little too baggy. Sometimes I'd rather have the tech fit. The cut of the garment is pretty good – at least for my body type. The stretch areas have been well designed to augment the cut, which seems to maximize mobility in this garment.
AMGA: How does the piece compare to other, similar pieces that you have used?
DT: My last insulated puffy was a Nano puff jacket from Patagonia. The amount of insulation in the Ndosphere feels like about twice as much. Thus, this jacket is warmer, but does take up a bit more space when compressed. The stretchy outer fabric feels a lot like the stretch shell fabric on the new Patagonia Nano-air hoody. And it works!
AMGA: Is there anything we're not asking that you want to share with me about this piece of gear?
DT: Stretchy materials take more time (generally) to dry than non-stretch garments. Lycra is hydrophilic. I'm interested to see, over the next month or two, how this jacket dries out in inclement weather. I am curious to see if the jacket will dry more slowly in the stretch panels.
Specs:
Main body and hood feature 80g PrimaLoft Sport synthetic insulation for warmthSoft
PrimaLoft® Sport soft as goose down but works when wet and dries quickly
80g insulated, stretchy PrimaLoft Synergy panels on sides, underarms, and upper back
Cocona inner lining improves overall wicking, breathability and warmth
Closely fitted, adjustable hood
Adjustable hem and elasticized cuffs
Zippered handwarmer pockets; one zippered chest pocket