1)  What does "mentorship" mean to you? Has this definition changed as the result of attending the camp? 

Mentorship, to me, is the best way to inspire commitment, discover strengths, expose weaknesses, and find true passion for a calling by selflessly putting one's passions towards the best interests of someone else. Guiding is a privilege, not a right, (to quote Vince Anderson) and the leadership and duty/service of mentors is paramount to the continuation of leadership in the mountains for future generations. Not only for learning technical systems, rope management, and client care, but for reinforcing a love of the mountains.
My definition of "mentorship" hasn't changed since participating in the camp. Instead, it was reinforced. As I progress further down the guiding road, I hope to someday return the favor.
2)  In what ways do you feel mentorship is significant to the craft of mountain guiding? 

Mentorship is a unique trait among mountain guides. It is incredibly easy to find a mentor as you first start your climbing journey. A quick post to the local climbing Facebook group and you'll find someone to t
each you the ropes. As we progress through our climbing journey, we tend to forget the mentorship aspect, of not just climbing, but of guiding. As guides, we tend to work by ourselves and normally only debrief in our notebooks or an end of day report. In doing so, we completely miss the outside perspective, which is critical to learning and becoming a better guide. Mentors pick up on little things such as tying a munter in the proper orientation right off the bat, or where you position clients on a belay ledge. Clients don't tell you that you botched "Outside, Inside, Under." Instead they go on and on about how rad that last pitch was. Mentorship in mountain guiding i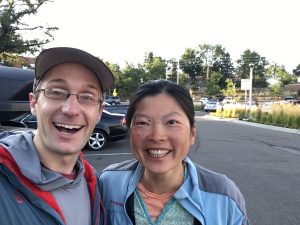 s significant because the outside perspective gives new insight into how to create an awesome, safe, and enjoyable climbing trip for clients.
3)  How did the 2017 Eddie Bauer & AMGA Rock Discipline Mentorship Camp help you grow as a professional?
The 2018 Eddie Bauer & AMGA Rock Discipline Mentorship Camp helped me grow as a professional guide through an important personal addition to my definition of professionalism. Before the mentorship camp, I pictured professionalism as being clean shaven, not smelling like a typical climber, and having well taken-care of gear. While this is part of professionalism, it's not all encompassing. Being a professional means being clean and well groomed, but it also means having well dialed technical systems, varying gamelans based on how you the guide and your clients are feeling that day. Professionalism means having well taken-care of gear, but it also means sending out a detailed email well before your clients trip along with a followup. Professionalism means being able to multitask while directing clients to flake ropes, or reading terrain while driving from the backseat short-roping.
4)  What was the biggest learning you had on the Mentorship Camp? 

It's always cool when the lightbulb goes off, especially when you don't expect it. My biggest learning moment in the Eddie Bauer Rock Discipline Mentorship Camp was recognizing the ability to be honest with yourself and your clients. Many times as younger guides, we feel pressure to perform for our clients. This could mean climbing a route we are not comfortable with on a particular day, or leading a route that is above our comfort level.
Sometimes we're just not feeling a particular pitch or route, and it's okay to acknowledge that. Cli
ents understand this and are grateful that you as the guide can recognize that. There is no shame in backing off a route if you're not feeling it. Especially if you've done your research and can still give your clients a great day out climbing!
5)  What was the most fun you had while on the Mentorship Camp? 

While the whole mentorship camp was fun, there was one moment that stands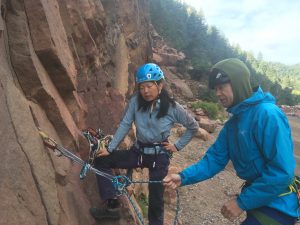 above all the others. After the second day of the camp, there was a barbecue/get together for a bunch of local guides. It was great talking shop with them, getting beta on different routes, and just plain out enjoying a great atmosphere.
6)  What is your next step on your path to becoming an AMGA Certified Rock Guide?
I plan to take my Rock Guide Exam in the fall of 2019. I feel much better about taking the exam after climbing and guiding routes with my mentor. Dale solidified my strengths and gave me pointers for my weaknesses to work on.
7)  What advice do you have for future mentorship camp attendees? 

My advice to future mentorship attendees is to show up with honest expectations of themselves, their fellow mentee, and their mentor. These two days are all about you and the skills you want to work on. Questions should flow freely, and don't ever feel like you are being examined. Most of all, this should be fun!