FLASHBACK PART 2: 2018 EDDIE BAUER ROCK MENTORSHIP CAMP
On September 10 – 11 of 2018, with generous support of Eddie Bauer, the AMGA ran it's annual Rock Discipline Mentorship Camp. This is a low ratio (2:1) training opportunity for members to learn from a local AMGA Instructor Team Member as well as a peer moving through the Rock Program.  Mentorship Camps provide AMGA members the opportunity to hone and refine skills in preparation for their next course or exam.
2018's Rock Discipline Mentorship Camp attendees were AMGA Assistant Rock Guides Ben Coryell and Szu-ting Yi. Here's what Szu-ting had to say about her experience:
1) What does "mentorship" mean to you? Has this definition changed as the result of attending the camp?
To me, mentorship is a relationship in which a more experienced person in a particular expertise provides guidance to another person who is eager to learn and grow in that field. The definition hasn't changed since I attended the camp; however the effect was more powerful than I expected. The less formal but intimate environment of the mentorship camp really put me at ease. During the two days of the mentorship, I gradually worried less about my performance and allowed myself to make mistakes. And when I no longer saw "failures" as stress but a learning opportunity, I saw a much better picture of how I could improve. Which was very important to m e, because growth was my biggest goal attending the mentorship camp.
2) In what ways do you feel mentorship is significant to the craft of mountain guiding?
We can learn technical skills, risk management, and other knowledge related to mountain guiding from books and formal instruction, but many nuances about mountain guiding can't be precisely detailed in a textbook. To me, that's because mountain guiding a highly relationship-based profession. We as a guide need to learn and adapt constantly from real guiding experience and eventually derive our own guiding philosophy. However it'll take massive amount of time and data to accomplish this task. That's why mentorship is significant because it facilitates the information transfer from the more experienced to the less experienced. A newer guide then has more to draw from when s/he encounters similar situations in the future.
3) How did the 2018 Eddie Bauer & AMGA Rock Discipline Mentorship Camp help you grow as a professional?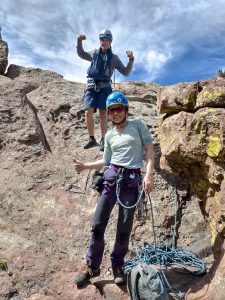 I've learned a great deal during the mentorship camp, from new technical tips to running a good guiding service. All of this knowledge will certainly help me grow as a professional. If I have to specify the most important lesson, I would say I realized better what other people would expect a professional guide to be, act, and do. It's not about climbing efficiency or transition fluency, although they are definitely important. It's about how I make and execute every decision. I need to make each of the countless decisions during climbing/guiding with intention instead of falling into mindless autopilot.
4) What was the biggest learning you had on the Mentorship Camp? I need to trust myself and be more confident and assertive.
My biggest weakness is that I often second-guess myself when I want to perform. And that hesitation would reflect on my facial expression and jerk my movements. During the mentorship camp, our mentor Dale often asked me the reasons why I made a certain decision. I often found out my first thought I had during the decision making process was usually correct and by second-guessing, I might end up choosing a less optimal solution. So I did possess good skills but I let my mind compromised my performance. I need to learn to be present so that I can apply my hard earned skills.
5) What was the most fun you had while on the Mentorship Camp?
When I reflected on the mentorship camp, it was very difficult to pin down the most fun moment or event. Besides learning, we also laughed and joked a lot. The atmosphere was relaxing and I had great conversations with my mentor Dale and co-mentee Ben. So I'd say the most fun I had was that I earned two great friends!
6) What is your next step on your path to becoming an AMGA Certified Rock Guide?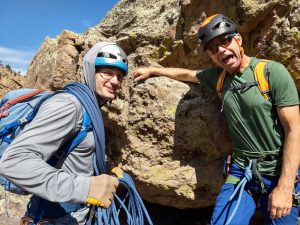 Besides trying to gain more guiding days. I will have mock guiding days with less experienced and more experienced "fake" clients during my off days in order to solicit more feedback. I have signed up for the Guide Exam in April 2018, I'd love to over prepare so that I won't go in the exam overly tense.
7) What advice do you have for future mentorship camp attendees?
The location of the mentorship is at Eldorado Canyon, which is known as a tricky place to navigate and protect. It certainly lives up to its reputation, and I had a hard time the first day because it was also my first day climbing at Eldo. If I could have arrived the site earlier and spent at least a few days to familiarize myself with the rock type and climbing style, I would have learned more during the mentorship camp. So if you have never climbed here before, come here before the camp to do some personal climbing!