G3 Survey Seeks Input from Guides
Posted on May 11, 2014 by AMGA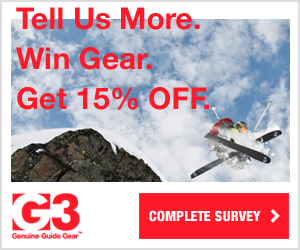 Tell Us More. Win Gear & Score Discounts from G3.
Rooted deep in backcountry ski culture, G3's mission has always been to improve your winter backcountry experience. G3 is one of the few remaining and truly authentic, independent winter backcountry brands. – See more by clicking here.
We want to hear from you. Complete this survey to help us better align G3's gear with your needs. To say thanks, they'll hook you up big time…
Enter to win 1 of 10 prizes from our 2015 line up. Skis or boards, bindings, poles & skins.
And get an exclusive 15% OFF coupon code.