An Icelander's Path to AMGA Certification
Posted on April 17, 2014 by AMGA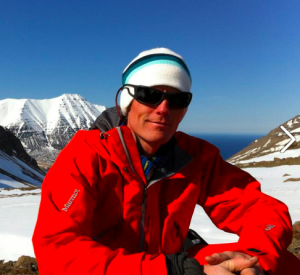 Icelander Einar Ísfeld Steinarsson first started considering IFMGA certification in 2002. But at that time Iceland was not a member country of the International Federation of Mountain Guides Association. However, as part of a mountain and para-rescue team, where he trained with the U.S. Marines in winter survival in the Icelandic interior, Greenland, and the United States, Steinarsson was keenly interested in furthering his profession. About the time he began guiding full time in Iceland, he also decided to pursue AMGA certification.
But, he explained, the process toward certification was clearly both time-consuming and expensive. And when he factored in the travel to and from Iceland for each course and exam, it became quickly evident that he would have to find alternative ways to start the process. First, Steinarsson went to the Thompson Rivers University in Canada, which offered Icelanders student loans and therefore the option for pursuing some certification toward guiding.
While there on his student visa, he completed the Canadian Avalanche Association´s level 2, module 3 in 2008. By the time his student visa expired, he had met and married his American wife, Erin. They moved to the United States, and he decided to pursue further AMGA certification. "There were certainly other options for pursuing the certification from Iceland, such as Sweden, UK, and France to name a few," he said. But, he added, all required you to speak the language at the time and most required you to have a large amount of your climbing resume from that country. So he chose the United States.
In May 2009 he, his wife, and a few friends decided to start Glacier Guides, which is opened May through September and operates in Vatnajökull National Park in Southeast Iceland. "Erin was pregnant at the time with our first child and we felt that we would need something a little more stable as our life was not kid friendly at the time," Steinarsson said. Though the couple had relatively little knowledge about running a business, Erin was very organized, the "backbone" of the operation. With him handling the guide training and managing the guides and operational aspects, the new business was successful.
"The guide service was always meant to be a more mass tourism operation where we could train our guides with relative ease for trade routes including easy to moderate glacier hikes, trade route alpine climbs, and top rope rock- and ice climbs," Steinarsson stated. But today the company employs a team of 25 guides and sales people that have mostly been with them from the start, and they have more than 9000 guests hiring them each year for various day trips. The couple now has a solid four months of family time and a steady income.
In 2012, Steinarsson applied for the service to be accredited through the AMGA. "I chose this option because there is no overseeing body for guides services in Iceland to critique our work or provide guide training, he said. As well, he wanted feedback on all the categories that fell under the accreditation. "Receiving the accreditation was an added bonus."
Steinarsson passed his final ski exam February 2014, despite tough snow conditions on Rogers Pass. And he aspires to add additional AMGA certifications to his resume, but he is taking it slowly as he now spends a large part of his year either with the family or ski guiding in Iceland, Greenland, and the United States. But, he said, AMGA certification is important to him. "I want to keep current on industry standards and to keep learning from both instructors and the other candidates," he explained. "I will keep picking away at them to fulfill and old dream."