New American Mountain Guide: Rob Coppolillo
Posted on December 8, 2014 by AMGA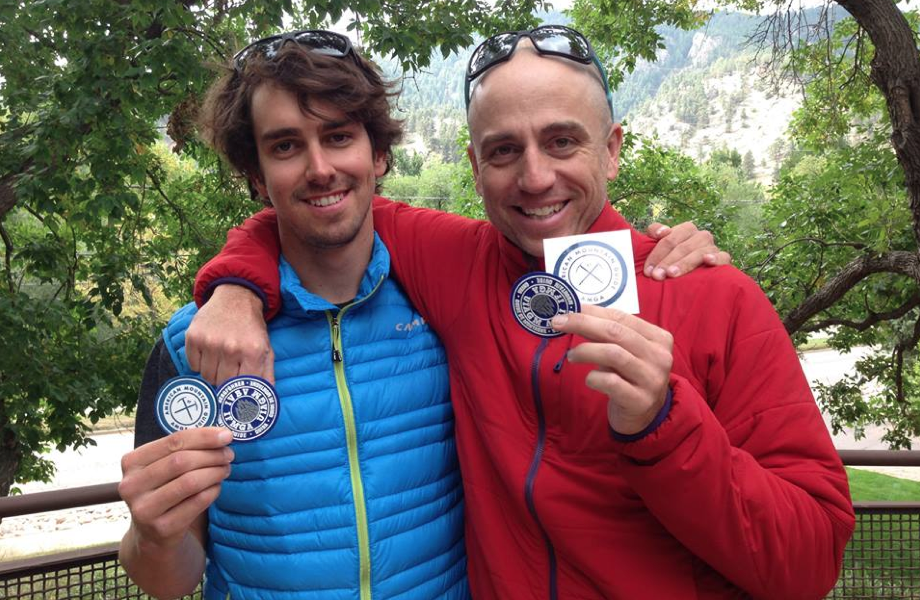 Text & photo by Editorial Staff (Mike Arnold on the left, Rob on the Right)
One of our favorite gear testers and excellent writer Rob Coppolillo became an American Mountain Guide September 2014, after starting the process in January 2007 with his Ski Guide Course. We chatted with him about his perspective on the process. Read more directly from Rob about the Steps to Becoming an American Mountain Guide. In this photo he is pictured with Mike Arnold, who also got his pin this year. Congrats to you both!
AMGA: What was the process like for you?
Rob Coppolillo: It was like an extended climb-and-ski trip with my buddies, punctuated by periods of extreme stress and nightmarish anxiety. For real–overall, great. The exams and prep can be stressful, but if one's diligent and finds a couple good mentors (thanks Markus, Tim, Joey!), it's totally manageable. I'd tell a younger guy, don't rush, forget your ego, be open to learning and making mistakes, try to relax, and focus on your weaknesses. Just follow the training, and they'll get you there. The instructor pool is packed with great teachers…so listen up!
AMGA: How do you feel now? And what are your goals?
RC: I feel like I weigh 108 pounds… but I don't climb any harder. Damn. Light, relaxed, psyched! I'd like to pursue training in areas of weakness for me, particularly my ice movement and advanced glacier stuff. Ease onto bigger objectives here, in Canada, Alaska, and Europe.
AMGA: What is your advice to aspiring American Mountain Guides?
RC: Find a supportive, tough mentor with a good sense of "the standard" and what it takes to get there. Distance yourself from people too attached to one way of doing things. Find somebody who can throw you into the deep end without being unkind and impatient. Commit to the professionalism of the trade. Guiding requires life-and-death decisions. Without being hyperbolic or dramatic, the work will at times require making extremely important decisions. When to back off? When to push it? Having a good mentor helps you ease into these situations with some "back up." The overarching theme, though… or maybe the best thing to keep in mind if you're hoping to stay alive in the mountains is committing to the professionalism of the craft. Take it seriously. Prepare. Make mistakes, take responsibility for them, learn, grow, move on, and do better. Daily. Don't be attached to being "right;" devote yourself to learning and pursuing perfection, but recognize you'll never get there. Jedi shit, you know?
AMGA: Is there anything I'm not asking that you feel is important to share?
RC: We have some very, very good guides in this country and in the AMGA instructor pool. Do your homework, find out with whom you'd like to work, and then go train/study with them. Ask questions, watch what they do, absorb it all. Try different things just for the sake of it; force yourself to incorporate stuff you might not normally. And relax. Stress management is KEY to passing exams, but more important, it's key to managing some extremely stressful situations like unexpected weather, unfamiliar terrain, scared guests, injuries… you name it. Identify what tweaks you and learn to mitigate that. The most important thing as a guide, though, is knowing yourself. Self-awareness. "He who knows others is wise; he who knows himself is enlightened." I think Kim Kardashian might've said that. Or Lao-tzu. Anyway, commit to the training, to the journey. It's worth it.