Round Table Tour on Access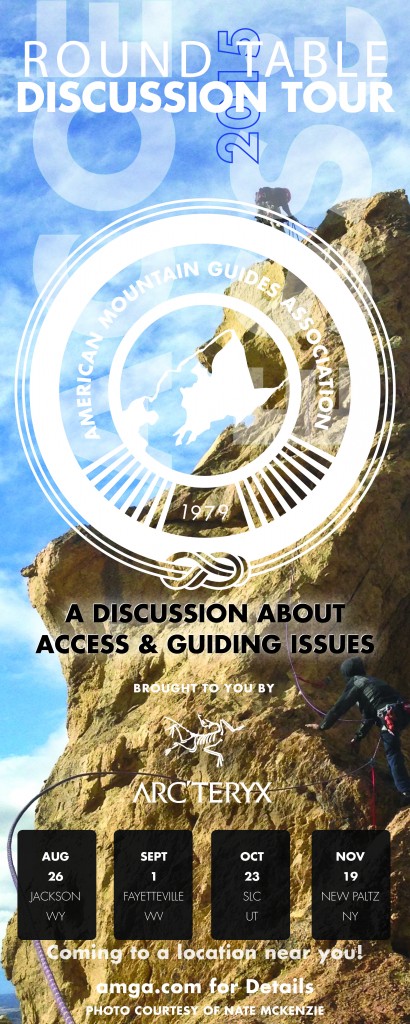 Thanks to the generous sponsorship of Arc'teryx, the AMGA is bringing the Round Table Discussion on Advocacy to you. This is a great opportunity for members to connect with AMGA staff, hear about our recent initiatives and advocacy efforts, and discuss national and local guiding issues.
2015 dates and locations:
August 26th – Wilson, WY
September 1st – Fayetteville, WV
October 23rd – Salt Lake City, UT
November 18th – New Paltz, NY
BE A PART OF THE CONVERSATION and COME TO A ROUND TABLE DISCUSSION NEAR YOU!
August 26th – Wilson, WY: The AMGA is excited to host, in partnership with Arc'teryx, the 1st stop of the 2015 Round Table Tour at the Old Wilson Schoolhouse Community Center in Wilson, WY. This meeting will be unique in that stakeholders from all facets of the guiding/outdoor industry will be present to engage in a broader discussion about the U.S. permitting process and the common challenges we all face as commercial operators on our public lands. The goal of this distinctive round table discussion is to identify the common challenges of guides, guide services, outdoor educators, and volunteer groups etc. as it relates to accessing/utilizing our public lands and to begin building a conversation that focuses on creating a unified voice for advancing the greater needs of the outdoor recreation service provider.
The event will be held on Wednesday,  August 26th at the Old Wilson Schoolhouse Community Center, 5655 Main Street, from 5-8pm MST.
2014 Round Table recaps:
March 2014 Brevard, NC Round Table re-cap here.
May 2014 Bishop, CA Round Table re-cap here.
October 2014 Boulder, CO Round Table Listening Session re-cap here. Official Transcript here.
December 2014 North Conway, NH Round Table re-cap here.