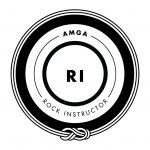 Rock Instructor Certification is designed to apply to most "cragging" style rock climbing areas in the United States. It is meant for guides or aspiring guides who work on routes that are Grade III or shorter. While these routes are multi-pitch, they are relatively straightforward and may not involve complex approaches and/or descents. Time factors, while important, are not as pressing on these routes.
You are expected to have a strong recreational climbing background with an acquired knowledge of knots, belaying, anchors, protection strategies, and climbing systems. It is assumed that you can lead the climbs listed on the submitted resume and that you are physically, mentally, and emotionally prepared for a week of outdoor activity.
To get your Rock Instructor Certification, you must complete:
The 10-day Rock Guide Course (RGC)
The six-day Rock Instructor Exam (RIE)
You must be certified in CPR and have a minimum 80 hours in WFR
During the Rock Instructor Exam you will be examined on climbs through Grade III and up to 5.10a/A0. You will learn or refine your skills in risk-management, industry standards, route finding, technical skills, terrain assessment, rescue scenarios, and client care.