High Altitude Symposium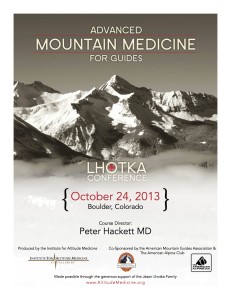 About the Symposium: Advanced Mountain Medicine for Guides, The Lhotka Conference, is a one-day seminar specifically designed for outdoor industry professionals who are responsible for others in the mountains. This course addresses the need for specialized education on high altitude illness, an objective hazard that, like avalanche hazard, deserves special attention. This is the first ever advanced course in high-altitude medicine for those who need it the most. For detailed overview of the High Altitude Symposium click Lhotka Conference Brochure
TO SAVE YOUR SPOT AND GET A FREE PULSE OXIMETER! REGISTER EARLY
How to Register:
Registration is open July 1, 2013. To register, visit the Institute for Altitude Medicine site at: www.altitudemedicine.org, or call 970-728-6767. Although fee is waived for AMGA members,registration is necessary for planning purposes. Registration deadline is October 1st!
Other Benefits:
All participants will receive a syllabus with background and educational material, including suggested protocols for field treatment of altitude illness and recommendations on pre-acclimatization and training.
The first 50 participants to register will receive a complimentary pulseoximeter.
Lunch is provided.
Tuition Fee:
Through the generosity of the Lhotka family, the course fee is waived for members of the AMGA, and is reduced to $125 for others. Organization and group discounts are available.
Course Certificate:
A certificate of completion of the Advanced Course in Mountain Medicine for Mountain Guides will be provided to participants.
Course Location and Format:
The training will be at the National Center for Atmospheric research (NCAR), 3080 Center Green Drive, Boulder, CO. Free parking on site. www2.ucar.edu/campus/center-green-campus
Participants:
This seminar is open to guides, trekking leaders, outdoor instructors, Wilderness-EMTs, physicians and others who maybe responsible for health and well-being of clients or team members on high-altitude excursions.
About Jason Lhotka: Jason Lhotka died from High Altitude Pulmonary Edema while climbing Mt. Kilimanjaro. His family is supporting this conference in order to prevent future tragedies from high altitude illnesses.
Slide presentations from the symposium:
See below for the list of downloadable materials for the symposium :
Luks&SwensonPulseOximetryatHighAltitude
Bartsch & Swenson HAI NEJM 2013
Guidline AI adapted AMGA manual1